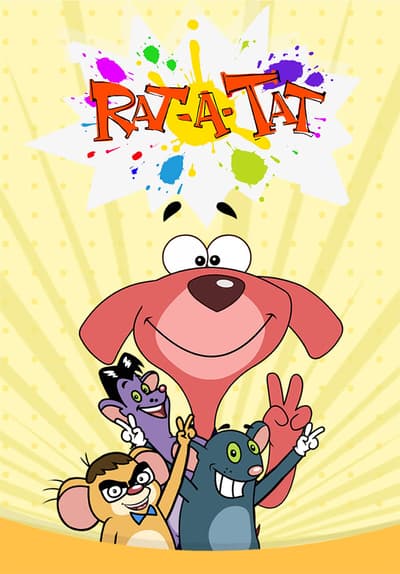 Content Unavailable
Sorry, this video is not currently available.
Scroll for Title Details
Scroll for Title Details
Rat-a-Tat
S01:E22 - Fighter Pilot Don
Don is fighter plane pilot.A nut falls off while Major tries to tighten it.The nut rolls into the hangar and into the mouse hole. Major tries to get the nut back.Later Don flies the fighter plane.Mice is also inside the plane.Don tries all the buttons in the plane and at lats presses off button and the plane moves down fast,but before it touches the ground he presses the on button and the plane flies off. Air Chief Marshal Rhino is inspecting. Larry presses the missile fire button and missiles are fired and hit near Colonel and Don. From flight control station missiles are fired at Don's jet.Though Don and the mice flies in a parachute all of them fall down.Later on mice were flying the plane and warning signal showed nut missing and plane crashes and the dogs did high five.